SuburbanBushBabe,
a fellow blogger
,
NC.com member
, and long time curly friend shares her tips on going the all natural route minus the big expense!
Keisha writes:

Q.: I am a 9 month transitioner and loving the process. I will BC in 3 months on my one year anniversary.

I had a couple of questions dealing with natural hair clays and masks. I really want to go the all natural route without the big expense. I have been using amla and shikakai mixtures, henna and honey mixess, bentonite clay, ACV; honey and EVOO mixes; shea butter, coconut oil, evoo, jojoba oil mixtures.
But I have been hearing about the rhassoul clays, zisyphus spina christi, and marshmallow root. Where do you order these things from? What are the uses of these products? Can I use them now on my transitioning hair or should I wait until completely naturally? What recipes do you use with these products? Do you know of any other clays?
A.: Many of the herbs and plants we use for our hair are also used for herbal detoxification, elimination and removal of toxins from the the liver and digestive system. These include burdock root, fenugreek, ginger root, marshmallow root, as well as Bentonite clay (Monmorillonite).
I first used clay (Bentonite) as part of a digestive detox. Imagine downing 8 oz. of bentonite clay and water 3 times a day for 2 weeks! Luckily, for your hair to benefit from the "mud treatment" all you need is to slap it on your hair.
<!— /284704979/AA_CurlyNikki/cn_mid-article_flex -->
Rhassoul clay (Hectorite) comes from Morocco and is 100% naturally occurring. It is only for external use (unlike Bentonite) and is a very popular spa treatment. I get mine from Mountain Rose Herbs. Their Rhassoul is untreated, quarry mined and sun dried from naturally occurring lake-side deposits.
Rhassoul Specifications: (from Mountain Rose Herbs)

Color- Light Gray with a hue of oxidized pink

Odor- Flat

Mesh Size- US #70-80 Mesh

Mineral Content

Silica- 58%

Aluminum- 2.47%

Iron- 0.64%

Sodium- 2.3%

Magnesium- 25.2%

Calcium- 2.34%

Moisture- <8%>
Interestingly, Bentonite has way more aluminum and a higher pH.
A Rhassoul Clay hair Detox treatment is one of the easiest kitchen mixes to whip up. And if you want to avoid the kitchen, you'll find some excellent commercial preparations further on.
Homemade Rhassoul Hair Mask

– 1/4 to 1/3 cup of Rhassoul Clay

– Hot water

Optional add-ins make the mixture smoother and more slippery

– 1-2 tbs. of your favorite (I like grapeseed or EVOO)

– Plain Greek-style yogurt (2-4 oz)

– Honey (couple of tsp.)

– small container of banana baby food
In a bowl or Pyrex measuring cup (2 cup size) mix the water with the clay little by little until the mix is the consistency you want. Clay swells and absorbs a lot of liquid. Your final preparation should be a creamy lotion-like consistency. Add any other ingredients. For an extra kicker, I add a few drops fenugreek, Burdock and Marshmallow root extract. Mix or blend until smooth.
To apply: Clay is messy. A salon cape and latex gloves will help control any spills. I usually apply a clay mask to dry dirty hair, starting from the nape of the neck. No need to detangle first. Apply in small sections, smoothing it in from ends of hair and working up to root. Cover every strand and the hairline. Do not comb or brush. Cover with a plastic cap and wear a heat cap for half and hour to 45 minutes.
Thorough rinsing is vital with dirt-based treatments. Fill your kitchen sink to the brim with warm water and dunk your head in it to let the mix float away. Then rinse your hair thoroughly in the shower. Follow up with a moisturizing, detangling conditioner and enjoy your soft, beautiful hair!
Don't feel like mixing your own? Anita Grant is the queen of the Rhassoul Clay treatment. Her product does one better and adds unrefined Black Cocoa Butter & natural Soya based Vitamin E.
Botanical Spirits makes a Peppermint Mud Hair Softening Mask with some amazing and healthy ingredients in addition to the Rhassoul. The owner is based in my home town and offers generous samples on her website for the cost of shipping!
Baka Natural-laxer is one of the oldest clay hair treatments. It's not a rhassoul based mixture but contains Sahara Clay, myrtle, rose petals, fenugreek, nettle, sage. This is not a relaxer and is not to be confused with the chemically based product with a similar name.
Zizyphus Spina Christi:

From the Henna heads over at www.naturallycurly.com I learned of a desert plant called Zizyphus Spina Christi (ZSC for short) ZSC is also an excellent cleansing and conditioning treatment. It's good for people who want the conditoning benefits of henna without any color deposit, so it's great for my gray/silver hair. It's also a good alternative to shampoo or detergent based cleansers, and enhances hair thickness and texture. ZSC is not cassia obovata. ZSC is available from Mehandi.com

ZSP applied

Marshmallow Root:

I don't know as much about this root except that it is full of plant mucilage which gives it a slippery consistency. It's good for hair as well as for internal use as an expectorant. Kitathena over at NewlyNatural has a wonderful write up on this and other herbs and a hair spritzer recipe – check it out!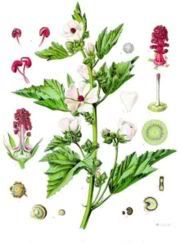 Great products with marshmallow as an ingredient:

Jessicurl Weekly Deep Conditioning Treatment
Blended Beauty Herbal Reconditioner
EO Chamomile and Honey Hydrating Conditioner
More information about marshmallow:

http://www.mountainroseherbs.com/learn/marshmallow_root.php

http://botanical.com/botanical/mgmh/m/mallow07.html
Where to buy:

Anita Grant

Marshmallow Root Powder at Mountain Rose Herbs
For more SuburbanBushBabe, check out her blog, Starry Eleven Twins!