Was
up in NOLA going hammer for all of 1.5 days, but in that short time I:

-Stayed at
a Pool House – on a street called Belaire! Only thing missing was DJ Jazzy Jeff #SummerTimeSwag #Fresh
-Ate at Mother's AND Acme (and scheduled a subsequent appointment to have my cholesterol checked)
-Partied into the night with the
Curlies &
MIZANI
– enough said, y'all know how we do.

-Sat front row at the Paul Mooney and Dick Gregory (St. Louis Legend!) Stand-up, whereafter I had to photobomb Paul Mooney just to get a pic.

-Drunkenly harassed Mannie Fresh as he crossed the street by screaming out AYYYY MANNNY! MAAANNNNYYYYY!!!!

– People watched and managed to talk about this scruffy looking man,
with mismatched clothes hopping out of a large SUV. Turned out to be
Trey Songz. Now get this – he pulled up to a crowded car port packed
with people and no one else recognized him either, lol!
– Made it to the airport where we ran into Pooch and Hosea from The Game… walking hella slow with what appeared to be their mommas, cousins and aunties in tow!
The Dr. Anderson and The Boogie!
boog gettin' it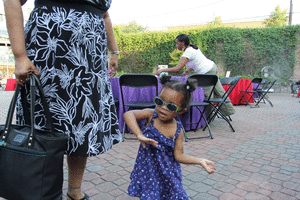 Cassidy on her event planning game. Why the hell we outside boo?!
#wobble
Scroll through for more pics!
<!— /284704979/AA_CurlyNikki/cn_mid-article_flex -->
and later that night at the show–

Paul & Dick
Roland Martin

What I wore-
Jeggings from GAP (clearance for 20 dollars!)
Tank from H&M
Hair-
Took it back to my
LA adventures
, and turned a sad Twist-Out into a lil' asymmetrical number!